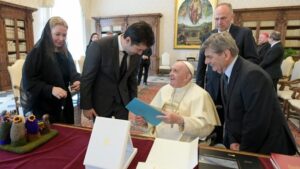 On Monday morning Pope Francis met with the Prime Minister Kiril Petkov of Bulgaria in a private audience at the Vatican.
On the eve of the national day celebrating Saints Cyril and Methodius, the Bulgarian alphabet, Bulgarian education and culture, and Slavic literature, Pope Francis welcomed a delegation from Bulgaria led by Prime Minister Kiril Petkov on Monday morning.

After fifteen minutes of private talks between both leaders, the customary exchange of gifts took place. The Holy See Press Office noted that the Bulgarian Prime Minister offered a woolen cloth nativity scene made by the "Nativity of Christ" Center, which is linked to the Catholic Apostolic Exarchate of the Byzantine-Slavic Rite in Sofia, and a traditional Chiprovtsi carpet. Pope Francis offered a number of gifts including a copy of this year's Message for the World Day of Peace and the Document on Human Fraternity.

Source: vaticannews.va