New Zealand's PM Jacinda Ardern said it was "one of New Zealand's darkest days" and called the shootings a terrorist attack.
Saturday 16 March 2019 07:27, UK
Brenton Tarrant, handcuffed and wearing a white prison suit, appeared in court on Saturday morning, a day after the usually peaceful nation suffered its deadliest terror attack.
He stood silently in the Christchurch District Court, smirking when media photographed him in the dock where he was flanked by two police officers.
He appeared to be making a gesture with his hands which has been interpreted by some as a white supremacist sign, while others believe it is a reference to an online joke.
During a brief hearing at Christchurch District Court, Tarrant was remanded without a plea. He is due back in court on 5 April and police said he was likely to face further charges.
Tarrant is accused of murdering a man, whose name was suppressed by Judge Paul Kellar on the grounds of undue hardship to his family in Christchurch yesterday.
Dozens were injured in the attacks at al Noor and Linwood mosques. Eleven people are still in a critical condition.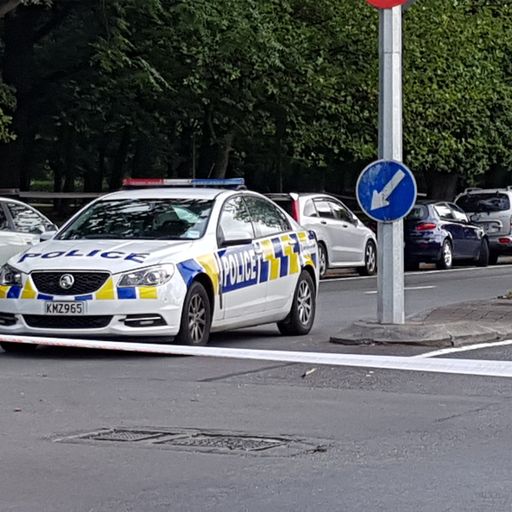 The latest developments after worshippers are killed in shootings at two mosques
The gunman filmed himself in his car before he carried out the attacks and also live-streamed the atrocity when he attacked the al Noor mosque packed with worshippers attending Friday prayers.
Sky News has decided not to show the video.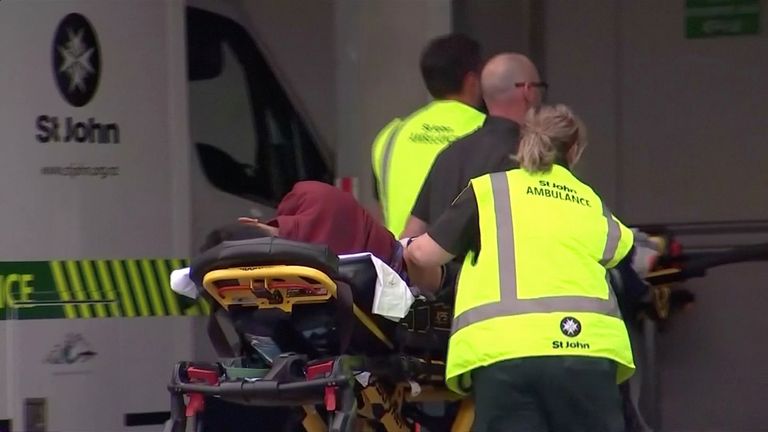 Prime Minister Jacinda Ardern said the terror attacks marked "one of New Zealand's darkest days". She promised that gun laws would be changed.
The mayor of Christchurch in New Zealand said the shootings were an "act of cowardice" and the attacker came with "hate in his heart".
Mayor Lianne Dalziel said: "He did not develop his hatred here. He came here to perform this act of terrorism."
She said graves were being dug for the dozens of worshippers who were shot dead and officials are working closely with the community on the specific requirements of a large number of Muslim funerals.
The mayor added: "At this time there will be a grief stricken city, but we will come back from this and continue our path of welcoming people of all nations, from all religions from all cultures to our city."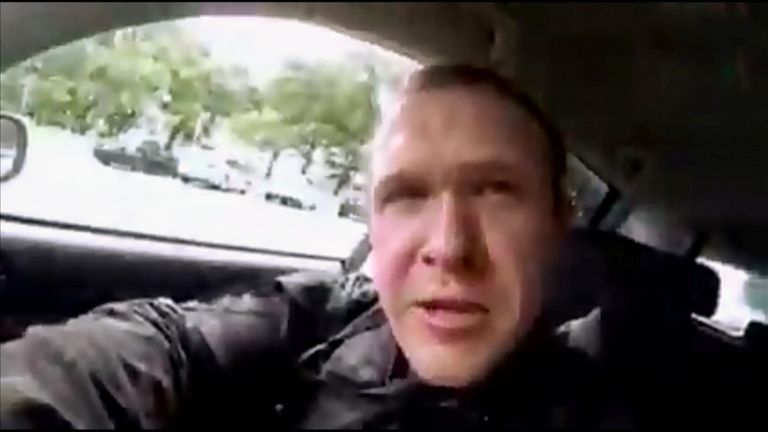 The gunman was armed with at least two assault rifles and a shotgun. He sprayed worshippers with bullets, killing at least 41 people at al Noor mosque. Several more people were killed in an attack on a second mosque a short time later.
Scrawled on the arsenal of weapons used in the attack were the dates of historic Christian battles and the men who fought in them, names of well-known far right extremists and phrases, including "here's your migration compact!" - an apparent reference to the Global Compact for Migration, an agreement for safe and orderly migration.
Neo-Nazi symbols were attached to an armoured vest.
On Saturday Ms Ardern said two other firearms were found in the gunman's vehicle, adding it was "his intention to continue with his attack".
She said "young children have been caught up in this horrific attack".
Three other people - two men and a woman - were also arrested after the attacks.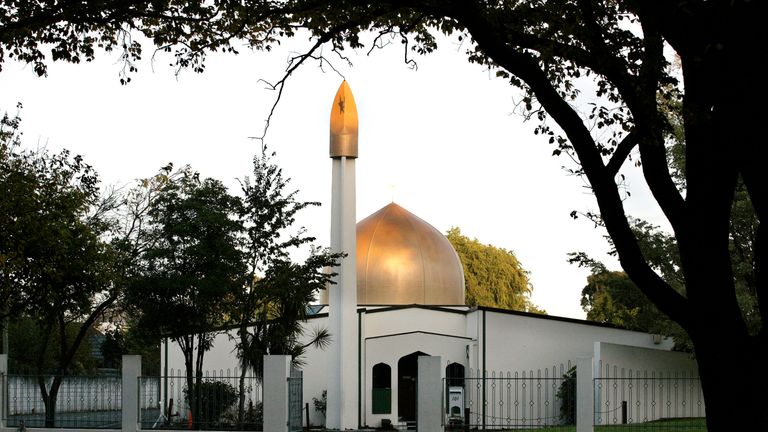 The attack prompted the country's security alert to be raised to the highest level, while schools were put on lockdown, the public were being urged to stay indoors and worshippers were being told to stay away from mosques.
A number of improvised explosive devices attached to vehicles in Christchurch were made safe, police said.
The lockdown was gradually lifted on Friday.
Tarrant left behind a 74-page anti-immigrant manifesto.
Witnesses spoke of the horror as the gunman entered the mosques and opened fire. One witness described as the gunman methodically went from room to room.
The attack shocked the nation, where mass shootings are a rare occurrence. The last one was in 1990 in the small seaside town of Aramoana. Thirteen people died in that attack, as well as gunman David Gray.
Ms Ardern described the shooting as an "extraordinary unprecedented act of violence".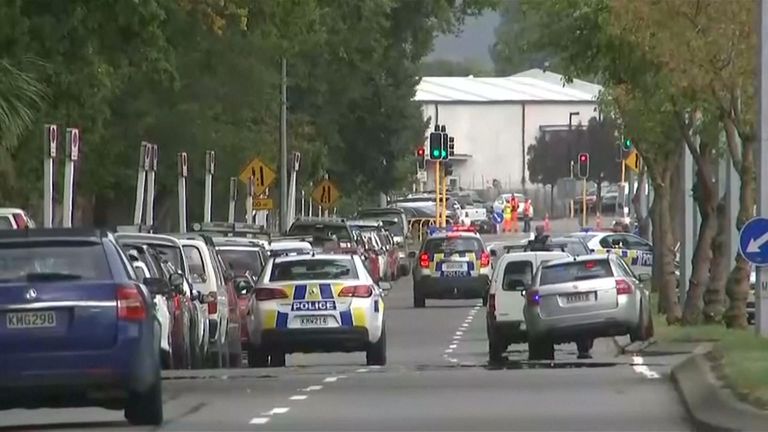 "Many of those affected might be migrants to New Zealand. They have chosen to make New Zealand their home and it is their home.
"There is no place in New Zealand for such acts of extreme and unprecedented violence which it is clear this act was."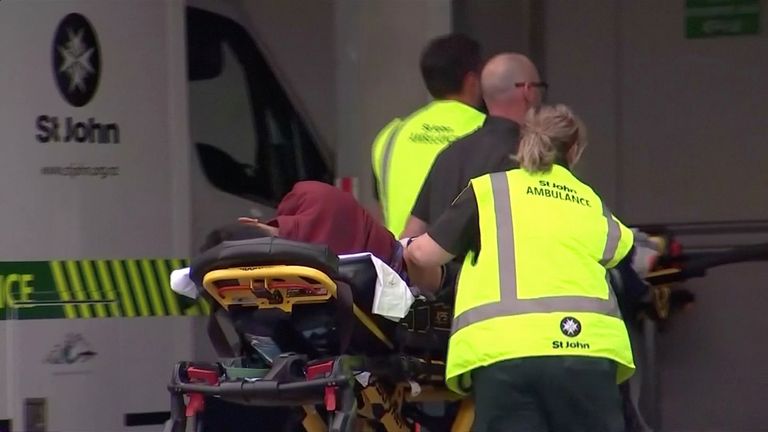 Players and members of the Bangladesh cricket team's coaching staff were on their bus and approaching the mosque for Friday prayers when the shooting broke out.
Opening batsman Tamim Iqbal tweeted: "Entire team got saved from active shooters. Frightening experience and please keep us in your prayers."
Player Mushfiqur Rahim also posted: "Alhamdulillah Allah save us today while shooting in Christchurch in the mosque. We (were) extremely lucky...never want to see this things happen again....pray for us."
Sky News