The leader of Hong Kong's government has said she remains determined to pass a proposed extradition law despite a huge protest march against the legislation on Sunday that draw an estimated one million people.
The bill creates a system for case-by-case fugitive transfers between semi-autonomous Hong Kong and regions with which it does not already have agreements, including mainland China.
Opponents of the law say it is being pushed by the Chinese government, and fear that Beijing will use it to extradite activists, dissidents and other political opponents who will end up in China's opaque and politicised courts.
Striking a defiant tone on Monday, Hong Kong's chief executive said Carrie Lam said: "This bill is not initiated by the [Chinese] central people's government. I have not received any instruction." Opposition to the bill was a result of a misunderstanding she added.
The bill's supporters say it plugs existing loopholes and will prevent the city from becoming a bolthole for fugitives. Hong Kong's administration is determined to pass the bill before July, and has pegged its urgency on the case of a man wanted for the murder of his girlfriend in Taiwan.
"Hong Kong has to move on," Lam said. "Nobody wants Hong Kong to be a fugitive offenders haven."
On Sunday hundreds of thousands people marched through Hong Kong in opposition to the bill. Organisers estimate that one million people took part in the march – which would make it the city's biggest protest since its handover from British to Chinese rule in 1997 – although police put the figure at 240,000 at its peak.
The protests were peaceful until midnight, when police and demonstrators clashed after attempts to disperse some remaining protesters from the area outside the legislative offices.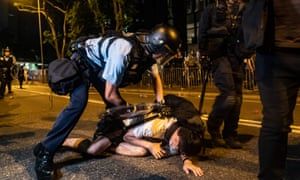 A protester is detained during a clash after a rally against the extradition law on Sunday. Photograph: Anthony Kwan/Getty Images
Another rally will be held on Wednesday, when the second reading of the bill will be debated by legislators.
Martin Lee QC, a leading barrister, former legislator, and key figure of Hong Kong's pro-democracy movement, told the Guardian he believed there would be lots more protests if the government did not adequately respond to Sunday's enormous public showing. Lee said the government was "saying no to democracy and suppressing human rights and the rule of law".
There is widespread fear in Hong Kong over Beijing's increasing encroachment into the city, 22 years after it was was returned from British rule to exist under the "one country, two systems", regime which guarantees it an independent legal system.
Lam said the size of the demonstration showed there were "clearly still concerns" over the bill but the fact so many people took part in the rally showed the city has maintained the freedoms of Hong Kongers, journalists and others. "I think they clearly demonstrate that these rights and freedoms are as robust as ever," she said.
China's ministry of foreign affairs said that it continues to firmly support Hong Kong in passing the bill. Foreign ministry spokesman Geng Shuang said Beijing "resolutely opposes" the interference of "external forces" in Hong Kong's legislative affairs. In an editorial on Monday, the state-owned China Daily defended the legislation and blamed opposition parties and "foreign forces" for creating chaos in Hong Kong.
"Any fair-minded person would deem the amendment bill a legitimate, sensible and reasonable piece of legislation that would strengthen Hong Kong's rule of law and deliver justice," it said, adding that Hong Kong residents had been "hoodwinked" by the opposition camp and their "foreign allies".
"Some foreign forces are seizing the opportunity to advance their own strategy to hurt China by trying to create havoc in Hong Kong," the paper said.