Hammond drops off Davos panel
Just in: UK chancellor Philip Hammond has dropped off a Davos panel scheduled for Friday morning, on the state of the global economy, we hear.
He's no longer listed as a speaker for the "Global Economy in Transition: Shaping a New Architecture" session, alongside the World Bank's Kristalina Georgieva, South African central bank governor Lesetja Kganyago, economics professor Mariana Mazzucato, IMF chief Christine Lagarde and Haruhiko Kuroda of the Bank of Japan.
However, we think Hammond is still visiting Davos (he's due to speak to business leaders on Thursday)
That Economic outlook panel is traditionally the final set-piece event of Davos, with top politicians and central bankers giving their views.
Guardian commentator Aditya Chakrabortty sums up the problem with the 'global elite' at Davos this week:
They care about other people's problems – so long as they get to define them, and it's never acknowledged that they are a large part of the problem. Which they are. If they want capitalism to carry on, the rich will need to give up their winnings and cede some ground. That point evades them.

Welcoming Donald Trump last year, Klaus Schwab, Davos's majordomo, praised the bigot-in-chief's tax cuts for the rich and said, "I'm aware that your strong leadership is open to misconceptions and biased interpretations." The super-rich don't hate all populists – just those who refuse to make them richer.
World leaders, rightly, get heavily criticised for preaching sustainability and equality at Davos before nipping off to a exclusive dinner date.
So after an underwhelming, pro-business speech yesterday, Brazil's new president Jair Bolsonaro will have wanted to strike a different tone.
Perhaps that's why the Brazilian government has released a photo, showing Bolsonaro apparently serving himself a self-service supermarket restaurant. No frills here!....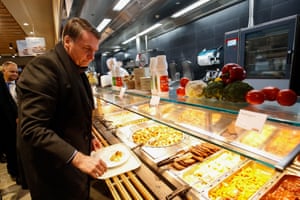 Except, Bolsonaro has also been spotted at a very exclusive dinner last night, with some top-level tech CEOs at one of Davos's luxury hotels. Not quite so man of the people....