Central bank says that growth slowdown threatens financial stability
Closing summary: Investors in retreat following ill winds on trade
Wall Street has caught cold from a chilly atmosphere on European bourses, with all auguries suggesting that the US-China trade relationship continues to be the biggest threat to the global recovery.
European Central Bank vice-president Luis de Guindos warned that a trade war between the world's two largest economies remains the biggest risk to the world economy.
If that were to trigger a global slowdown it could also cause financial instability, the ECB warned.
The latest flurry of nerves on global stock markets had an unusual source: some newspaper columns about rare earth minerals. China dominates supply of the useful minerals, and could be seeking to use that leverage.
The FTSE 100 had lost 1.5% at the time of writing, while the more UK-focused FTSE 250 lost 1.1%.
Tesco was the biggest faller of London's blue-chip stocks, down by 5.7%, after Kantar data suggested its grip on the grocery sector is slipping.
France's Cac 40 was the biggest loser of the major European indices, falling by 2%. Germany's Dax lost 1.5%.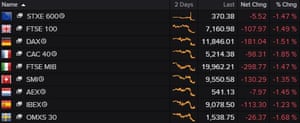 European stock markets fell as investors eyed trade tensions. Photograph: RefinitivEuropean stock markets fell as investors eyed trade tensions. Photograph: Refinitiv
In the UK, the sound and fury of the Conservative leadership contest is taking up attention, although since Theresa May announced her plan to resign the contenders are still in the early stages of their campaigns.
One of those contenders, Boris Johnson, looks like he will end up in court before then, to answer allegations of misconduct in a private prosecution.